I went to see
Hank III
at Dante's on Tuesday night. I swear the bass player was medicated or bored cause he looked sane and didn't scare me. The transition between country and Assjack death-metal normally happens after a break but they busted out the new persona right there on stage, which I found fascinating. I didn't stay long after though.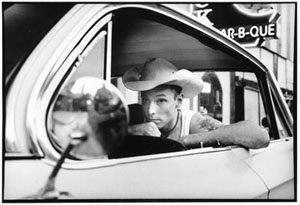 Hank baby!
It was a mixed crowd, hip and toohip and mullets and goatees and WOOHOO! spillalittlebeeronyeroldlady fun. Its too easy.
Who the fuck am I to judge anyone though. I can chop firewood and start a fire in a tornado. I swim in rivers, even if I don't throw my empties into the current. I was raised in the boogan backwoods of West Virginia after all. My family drank and fought loudly, my brother punched holes in doors, I had lice two times, wore boys handmedowns and used clothes, ate government cheese, fought on the playground and was poorly behaved in restaurants. I would be denying my roots if I claimed to be entirely Portland HipUrban Aristocracy anyway.
No kidding!
Anyway, I am leaving tomorrow for a week and a half with a canoe and a tent and a dog and some hiking shoes and a head full of pretty words. I am supposed to be packing coolers not dicking around on the computer. Besides, thats three new posts in two days. Yo.