ass shaker
The Old 97's
are fucking great! Rhett Miller is unbearably and mesmerizingly adorable. I couldn't take my eyes off him and his wicked charmingness. It was a hugely satisfying show, though there were a few songs I would have liked to hear.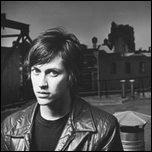 eeek
I just finished reading
Carent De Voyage, a new comic book by Craig Thompson
and MAN I LOVE HIM TOO. He is so great! Plus he is a Portlander and presumably likes sentimental weather like I do.
In the meantime, I am reading bundles of linguistic theory and don't have time for anyone or anything and feel like my material and personal connection with the world around me is growing into a yawning chasm of simplicity and single mindedness.
I want to go with it...shove it all out the door. All the stuff like how I am going to become a bike mechanic and fill my apartment with abundantly happy houseplants, organize my shoes, back up my files in a meaningful systematic way, set up my easel and paint again, draw naked people, meditate, create photo emulsion collages, return phone calls... you know, all the things you want to do and never get around to doing... I think I have a wee bit of momentum right now to go with, shove it all into a garbage bag and drop it off at Goodwill. Delete all those phone numbers from my phone of the people
I'm not even sure if I really like anyway
.
comic book chewer
Anyway, with what little time I had this weekend I read comic books and colored my cat Willie with highlighter pens after she chewed the corner of my
Tintin
comic.