Being the owner of a newly-stolen vehicle gives me a blank check to misbehave
and I am gonna to get all the mileage out of it that I can.
I'M SO SORRY I AM LATE, BUT, UM, YOU SEE, MY CAR GOT STOLEN...
AND I HAVE BEEN MEANING TO CALL YOU BUT I'VE BEEN SO PREOCCUPIED WITH THIS STOLEN CAR THING... I DON'T THINK I CAN MAKE IT TO WORK TONIGHT...
I'M CARRYING A LOT OF TENSION HERE IN MY SHOULDERS, YOU KNOW,
THE STOLEN CAR THING
, THINK YOU COULD GIVE ME A BACK RUB?
------------------
I got up this morning at 7am, an ungodly hour, and made my way downtown to volunteer for the Kerry booth at the
Race For The Cure
. It was fun because its one of those times that it is totally appropriate to make boob jokes into a microphone for a crowd of 37,000 people. Not that I was anywhere near a microphone, but people were thanking me profusely and slapping stickers all over themselves.
There was one little boy, about 9 years old who asked for a sticker then, to my amazement, began violently attacking the sticker and flung it to the ground and hissed KERRY IS THE DEVIL. I burst out laughing cause, as it turns out, stickers dont make good dramatic props. Anyway, the kid ran off back to his cloven-hoofed mother somewhere in the crowd.
Kerry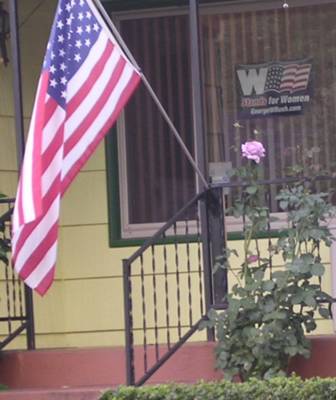 W Stands for Women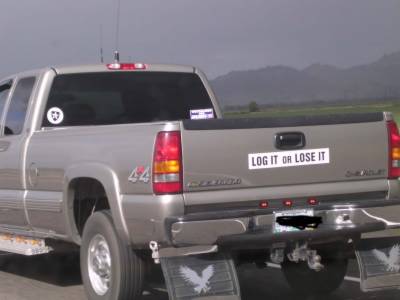 Log It or Lose It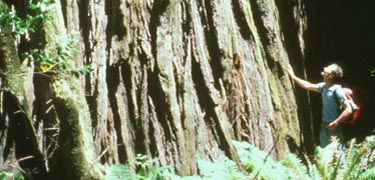 Log It or Lose It!
Whats The Hell Is Wrong With Yous AnyWays