There is more to life then anticlimactic anecdotes about stolen cars. When it happens to you I will tell you my story all over again.
Bird flew back Thailand this morning. Too much time together is never enough when you are moving 13 hours into the future. Beer is staying for another three weeks tying loose ends into tidy knots.
Its high traffic here. I put out cat food and big bowls of pasta and zucchini bread and hot peppers, leave the door unlocked. I have kitties and displaced people lounging all over my furniture.
I have rarely been happier then I am now. I am totally Teflon coated euphoria, crank-proofed. I am on the verge of everything.
But its not like I am not heartbroken with good-byes and cold-feet and poverty and the bum-knee.
...................................
We took Beer to
Saylers
, home of the
72 oz. Top Sirloin Steak
($50) and if you can finish it in less then an hour it is free. She tried, she did. She would have been only the 9th woman ever to finish.
-72 oz steak
-1 small bowl of fresh vegetables
-1 side salad
-1 slice of bread
-1 cup of coffee, tea or milk
-10 French fries
-1 onion ring
-1 bowl of ice cream
-60 minutes
She finished everything but 16 oz of steak, including a second bowl of ice cream, a second cup of coffee and two bottles of Heinz 57 sauce. But she couldn't chew steak anymore, her jaw wanted to cramp up and her arm fell off.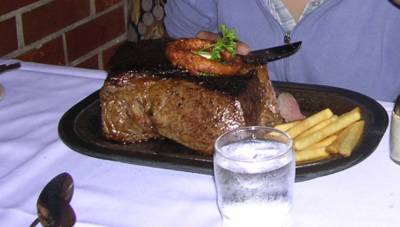 Before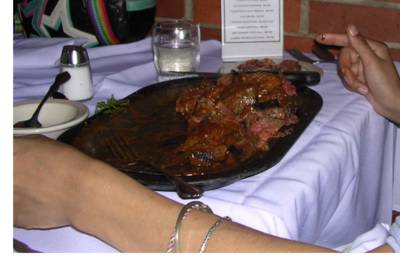 After
----------------------------------
Two years ago I got my mother a couple
Giant Madagascan Hissing Cockroaches
for Christmas. She has become rather attached to them, tending to their terrerium with great care, providing them with fresh fruits and vegetables, noting their moods, likes and dislikes. I swear she has more pictures of those roaches then there are baby picture of me in the family album.
She called me this afternoon bereft, having returned from two weeks camping in the Great Basin to find the baby of the threesome lifeless in the sawdust.
Ha'penny, dearly departed will be laying in state for a period of mourning.
-----------------------------------------------------
It seems like changes are descending on everyone I know like hurricanes. Like one week you are filing paperwork for a extention and buying a new powerwasher in the high desert and the next week you have sold your business and your vehicle fleet and live 300 miles away in student housing studying photography as art.
And you drop in for a polite visit, make sparks, move in for two years like it wont mean the end of something meaningful if you finally finish that four year degree after 12 years.
And you come back from the brink of oblivion shooting guns in New Mexico to a quiet and peaceful home, piles of books, knitted scarves......
In no time at all.